CERAH Community Report
2021-2022
Lakehead University respectfully acknowledges that its campuses are located on the traditional lands of Indigenous people. Lakehead Thunder Bay is located on the traditional lands of the Fort William First Nation, Signatory to the Robinson Superior Treaty of 1850. Lakehead University acknowledges the history that many nations hold in the areas around our campuses and is committed to a relationship with First Nations, Métis, and Inuit based on the principles of mutual trust, respect, reciprocity, and collaboration in the spirit of reconciliation.
As a Centre, we are committed to working towards reconciliation and implementing the Truth and Reconciliation Commission of Canada (TRC): Calls to Action, specifically 18-24 which relate to Health. One of our key priority areas at CERAH is Indigenous Peoples' health and aging. We conduct culturally relevant research and education in collaboration with Indigenous peoples that responds to communities' needs. As a centre, we also create space to amplify Indigenous peoples' voices through knowledge translation and program development opportunities. CERAH staff have also committed to educating ourselves through cultural safety and anti-racism training, critical self-reflective practice and decolonizing our thinking personally and professionally.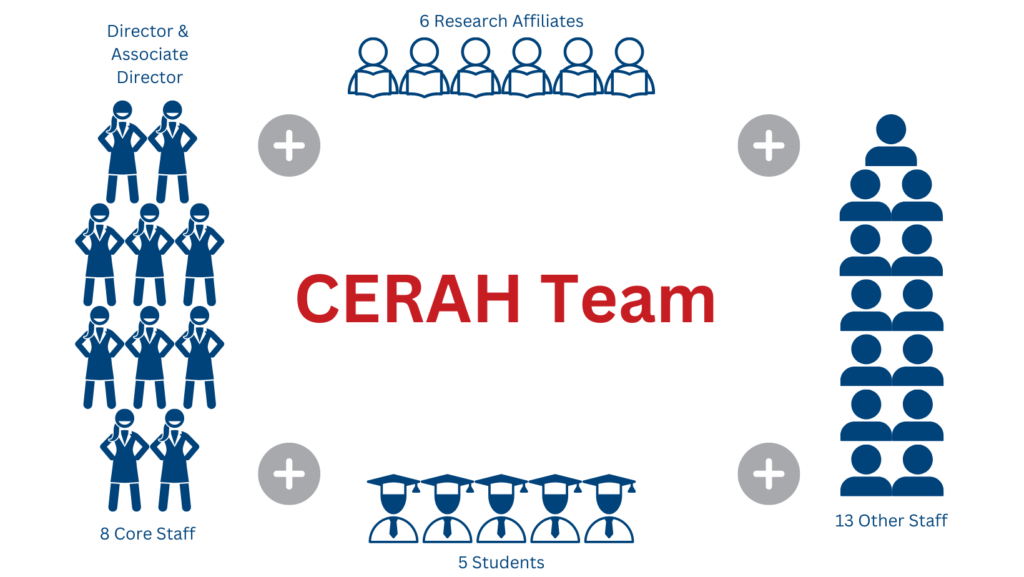 During 2021-2022, CERAH employed eight core staff on annual contract renewal. The funds for salaries come from education contracts and research grants. CERAH also employs research assistants, project assistants, and education facilitators on a fixed-term basis, depending on projects and research grants. Opportunities are also available to students and research affiliates.

Knowledge translation activities over the past year by research affiliates, Centre staff, and students.
Planning for education activities is done in conjunction with community partners, and the types of education provided are a direct result of our community collaborations.
From 2021-2022, Research Affiliate projects received 8 research grants from various academic and public health bodies, including the Canadian Institute for Health Research, the Public Health Agency of Canada, and the Social Sciences and Humanities Research Council.



The Dementia Café: A place to belong
A social program that provides a safe and inclusive environment for social interaction and provides opportunities to decrease social isolation that can occur with a diagnosis of dementia. A space to foster and maintain a safe and inclusive social environment with opportunities for social connection and interaction for people with dementia (and their care partners), regardless of age or stage.

In addition to the annual Ministry of Ontario Long-Term Care and Ontario Health base funding, CERAH also receives annual funding from Community Behavioural Supports and Dementia Café: A Place to Belong. An ongoing agreement also continues with St. Joseph's Care Group to organize and facilitate education for the Regional Behavioural Supports Program.
In 2021-22 CERAH received funding for an additional project:
During 2021-2022, Research Affiliate projects received funding for 7 research grants from various academic and public health bodies, including the Public Health Agency of Canada, Social Sciences and Humanities Research Council, and Canadian Institutes of Health Research.
In terms of special project funding, 2021-2022 saw contracts from Indigenous Services Canada's (ISC) Ontario Region, Manitoba Region and Atlantic Region to deliver palliative care education for front-line health and social care providers working in Indigenous communities across Ontario, Manitoba, and Atlantic Canada Home and Community Care programs.
CERAH also received some additional funding from St. Joseph's Care Group North West Regional Palliative Care Program to coordinate a pilot Palliative Care ECHO series focused on palliative care in rural and underserviced communities. This project is part of a national initiative led by Pallium Canada and will continue in 2022-2023.