Dementia and Seniors' Mental Health
Family, Friends, and Care Partners
Support and Activities
Dementia Café: A Place to Belong
The goal of Dementia Café: A Place to Belong is to create and maintain a safe and inclusive social environment with opportunities for social connection and interaction for people with dementia, regardless of age or stage, and their care partners. All people living with dementia and care partners welcome! Typically, Dementia Café is held 3 Sundays per month at Urban Abbey, Thunder Bay, ON. Free coffee, tea, and treats provided. If you are interested in registering, contact dementia.cafe@lakeheadu.ca or visit our Facebook page for further details.
Alzheimer Society of Thunder Bay
The Alzheimer Society of Thunder Bay provides the following services for individuals living with dementia and their care partners:
Client counselling sessions via telephone (807) 345-9556 Ext. 2009
Virtual Minds in Motion: each week will consist of chair exercises, sharing stories and keeping "Minds in motion" Call: (807)345-9556 Ext. 2004
Recreation Therapy At-Home Caregiver Kits and Activity Kits Call: (807) 630-5673
Choose to Move provides a newsletter and many free resources to keep older adults active and connected while adhering to physical distancing requirements. Also check out their Facebook page.
COVID-19 and Mobilization in Older Adults Living with Frailty (PDF)
This one-page document by the Regional Geriatric Program of Toronto provides evidence-based recommendations and curated resources to help frail older adults remain active indoors.
Cyber-Seniors provides free technology support and training for senior citizens. Learn how to video call, order things online, set up video appointments and more! Call 1-844-217-3057 to register for free webinars or to schedule one-on-one help over the phone. Visit their website for more details.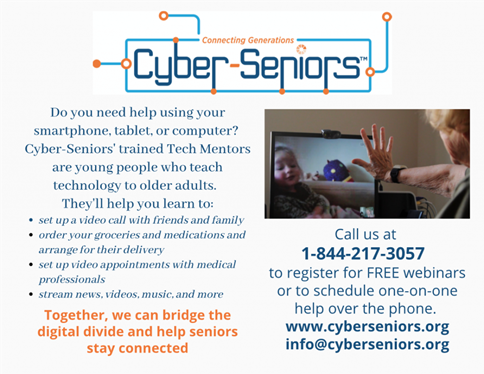 Dementia Alliance International: Peer-to-Peer Support Groups
Dementia Alliance International members facilitate and provide online peer-to-peer support groups and social groups for people with dementia through Facebook and Zoom (online video conferencing), for our members. You can join here for free. DAI also provides Peer-to-peer mentoring is also available for those who prefer one to one support.
Family Support and Action Line
The Ministry of Long-Term Care has launched the 'Family Support and Action Line.' This line is available to LTC families, staff, residents, and the general public to call to receive information or raise concerns during COVID19. Call 1-866-434-0144 8:30 AM- 7PM, 7 days a week.
1-833-416-2273 (CARE). Phone and Live Chat
The Ontario Caregiver Helpline by the Ontario Caregiver Organization provides caregivers with a one-stop resource for information and support, such as information on respite care, support groups, and navigating the health and social service systems. This is not a crisis or counselling line. The Helpline is available by phone 24/7 or through the online Live Chat Monday – Friday 7am – 9pm EST.
Stretch, Lift, or Tap (SLoT) – How Older Adults Can Stay Active Indoors (PDF)
A practical resource for frail older adults who are unable to leave their living spaces during the pandemic. Includes suggestions for how to add more movement to a daily routine, including two mobility games.
20 Things to Do at Home During Lockdown
This website gives great ideas for activities in the home during lockdown. It gives many links for sites that provide films, free books, exercise programs, gardening tips, virtual tours, arts and culture, and online courses.
Wellness Together Canada – Mental Health and Substance Use Support
Free resources for mental health and substance use support. Wellness Together Canada is available in English and French online or via phone at 1-866-585-0445.
Education
Caring Connections Chronicle (Newsletter)
The newsletter Caring Connections is sponsored by CERAH and the Caregiver Support Committee, Thunder Bay, Ontario. The newsletter, published three times a year, is for formal and informal caregivers in northwestern Ontario who are caring for older adults with mental health needs. It contains interesting and informative articles directly related to caregiving issues that help build a stronger family caregiver community. It highlights caregiver news, resources and opportunities.
Caregiving Strategies: Providing Care and Support for Older Adults Living with Frailty
Register for this FREE 6 week virtual learning series to improve your skills, knowledge, and confidence as a caregiver The next session starts November 9, 2022; Wednesdays from 7 - 8:30pm presented by Provincial Geriatrics Leadership Ontario.
The I am a Caregiver toolkit includes important information for the new or seasoned caregiver. This information was created by caregivers, for caregivers. This toolkit focuses on how to take care of yourself. The Ontario Caregiver Organization website also includes a number of tip sheets on topics such as: communicating with health care providers, privacy and consent and many more.
Dementia Connections Newsletter
Dementia Connections magazine was founded in 2017 to reduce stigma, increase awareness, improve access to supports and services for families impacted by dementia, encourage participation in research, and serve as a resource for the healthcare workforce.
Dementia Dialogue is a podcast with multiple seasons for people living with dementia, their caregivers, and those that want to learn more.
Dementia Strategy for Canada: Together We Achieve - 2021 Annual Report
The Public Health Agency of Canada has released a Dementia Strategy for Canada: Together We Achieve - 2021 Annual Report. The 2021 Report to Parliament on Canada's national dementia strategy provides a Canada-wide overview of some of the many efforts underway that support the strategy's national objectives.
Health and Social Service Providers
Support and Activities
Education